Choosing the appropriate wardrobe is also critical when arranging bedroom interiors. So some wardrobe shopping tips will assist you in resolving this issue. We will share some useful wardrobe-buying experiences that you should not miss out on.
Some wardrobe shopping tips you need to know
1. Materials
The first point to mention is the material used to construct the wardrobe. Today's wardrobes are made from a variety of materials, including plastic, aluminum, and wood. However, for a long-lasting wardrobe purchasing experience, use cabinets made of natural or industrial wood.
Natural wood will always be strong and beautiful over time. You can buy industrial wooden cabinets instead of expensive natural wooden cabinets. They are less expensive and last just as long as natural wood. Natural wood has the advantage of being light, with numerous designs and colors to choose from. Many people are now using industrial wood cabinets because they are similar to natural wood but are less expensive. You can also check out the products list from many well-known brands such as Kirkland's, Pottery Barn, and Wayfair… But to have the most cost-effective, you still should hunt for these brands' furniture discount deals before shopping.
2. Wardrobe style
Choose the right cabinet design based on the style of room decoration you want to achieve. Traditional rectangular cabinets are ideal for those who prefer simplicity. This style is relatively safe, making it suitable for a wide range of room decor styles. On the other hand, if you enjoy novelty, you can select cabinets with new soft lines. Instead of the traditional square shape, these cabinets have rounded lines that give the room a one-of-a-kind look.
3. Color and texture
Color and texture are also important considerations when designing a cabinet. Colors should not be rated the highest but should be based on the layout of the room to be harmonious and beautiful. If you want a modern-style bedroom, go with light colors and a few textures. If you have a luxurious bedroom, a warm-tone cabinet with stylish details as accents is a good choice.
4. Balance the size of the wardrobe and bedroom space
The size of a beautiful cabinet is also very important when choosing one. The cabinet should be proportionate to the size of the room. A small cabinet in an otherwise large space will create a limp, unbalanced space. Furthermore, according to feng shui, you should select the appropriate cabinet size in order to attract a lot of fortune and prosperity.
5. Choose a wardrobe with high convenience
The main function of the wardrobe, as you all know, is to store clothes. However, everything is being improved and optimized in today's market. As a result, many wardrobe models combine the functions of other items. Architects have created extremely useful cabinet models to keep up with the trend of convenience and saving free space. 
Some cabinets use the middle space to create a very useful dressing table or TV. Others will be integrated with the bed to maximize room space. There are also cabinets with built-in mirrors, which are ideal for women.
6. Choose cabinets with a reasonable price
The market currently has a large number of furniture stores, ranging from domestic to imported goods, with a wide range of models to choose from. This is accompanied by a plethora of price points. You can first check the prices online to see what the average selling price is.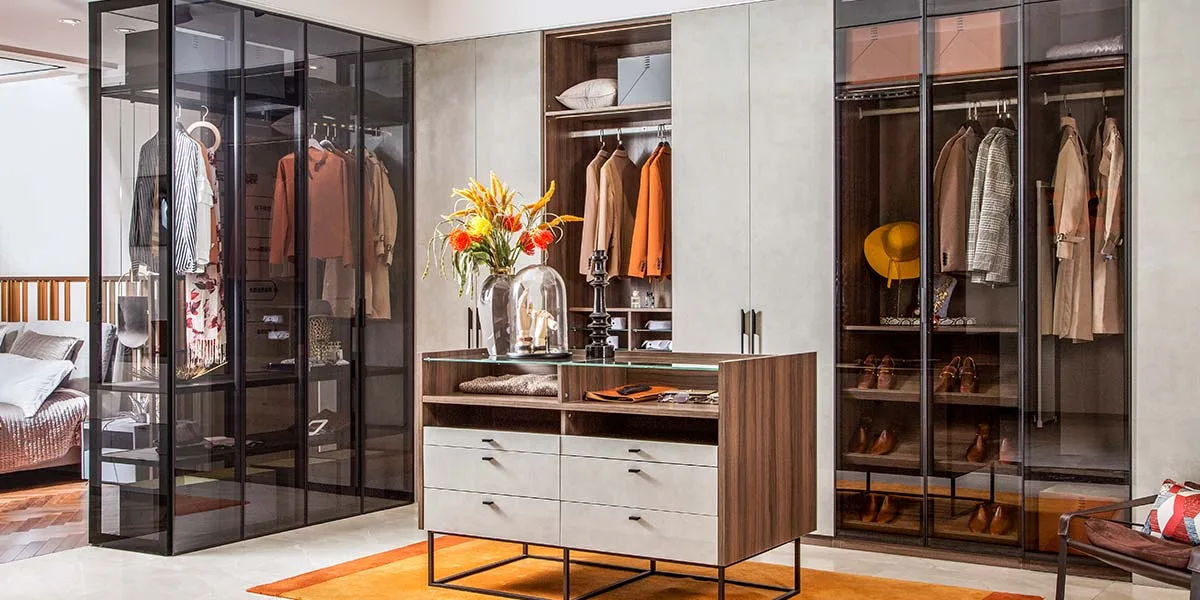 Size and material are two other factors that influence the cost of the wardrobe. Natural wood cabinets will be expensive due to their high quality and long-term durability. You can also replace the cabinets with industrial wood. Its cost is lower, and its durability is comparable to that of natural wood cabinets.
Read more: How to choose the best luggage storage for your belongings
The most popular wardrobe models today
1. Industrial wooden wardrobe with 2 doors
The two-door cabinet is ideal for small bedrooms or those with limited storage space. This type of cabinet is typically small in order to maximize room space. 2-door cabinets typically have a simple design and come in a variety of colors such as beige, deep brown, and so on. Because of its compactness and convenience, the product is becoming increasingly popular in the market. Furthermore, designers are working hard to create more diverse products with elegant designs and colors to beautify your space.
2. Industrial wooden wardrobe with 3 doors
There are a lot of clothes if you live alone. If a 2-drawer cabinet is insufficient for your needs, consider purchasing a 3-drawer cabinet. This cabinet will have a larger surface area and more compartments for easily categorizing clothes. The cabinet is not too large, making it ideal for small to medium-sized bedrooms.
3. Industrial wooden wardrobe with 3 doors
Unmarried people will be able to use the cabinets described above. If you are married, the 4-door wardrobe is the best option for you. Because the 4-door cabinets will be quite large, you should consider matching the room size. Its large size makes it ideal for large and spacious bedrooms.
4. Sliding-door wardrobe
Sliding cabinets are ideal for cramped quarters. Sliding doors will save space and make the room appear larger. This design is both luxurious and contemporary. You should think about getting a sliding cabinet made of industrial wood. Because industrial wood is lighter than natural wood and does not expand in response to changes in temperature. As a result, opening the cabinet door will be simpler.
5. Built-in wardrobe
Designers recommend this type of wall cabinet for rooms that are not square and have a lot of angles. These flaws will be hidden by the design of the wall cabinets. Built-in cabinets also elevate the room's sophistication and opulence. However, before purchasing this product, you should determine whether the texture of your wall is appropriate.
6. Wardrobe attached to the bed
This is an excellent design for homes with limited space. Many families choose to purchase this type of wardrobe in conjunction with a bed for their children. Because children's clothes are small and take up little space, this type of wardrobe is ideal for them. And if you have more than one kid, this type of wardrobe combined with a bunk bed is the best for a small space bedroom.
7. Wardrobe with decorative shelves
Some families prefer model cabinets with decorative shelves to save space. To decorate the bedroom, the decorative shelf can hold flowerpots, statues, or soaked wine. You can also convert this shelf into a bookshelf for a very reasonable price while still giving your bedroom an elegant decoration.
Conclusion
Choosing interiors for a limited space might be a tough job but with the variety of retailers and manufacturers together with numerous designs and styles, your wardrobe shopping experience will be more than convenient. No matter the brand, you should hunt for discount deals beforehand for the sake of your savings. Findcouponhere.net is updating non-stop for every active coupon code possible so you better take a look at their exclusive deals list.