5 Reasons a School Should Hold a Book Fair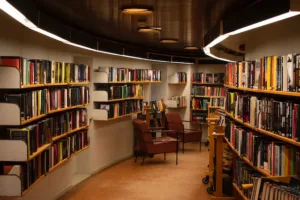 Book fairs are a wonderful opportunity to encourage a lifelong love of reading, and books have traditionally played an important role in education. Students should take advantage of the enjoyable and educational opportunities presented by school book fairs to increase their reading comprehension and enjoyment. This article explores five compelling arguments for hosting a book fair at your school.
Why Schools Need to Have Book Fairs
Encourages reading
Schools should include a book fair because it is a great way to get pupils interested in reading. Students may enjoy a lively setting while discovering new books and writers at the fair. A student's academic progress may be significantly impacted if they acquire a passion for reading as a result of this kind of inquiry.
Another benefit of hosting a book fair is that it allows students to discover different types of literature and areas of study. Reading outside their comfort zone like this might open new worlds and motivate them to do new things.
Boosts literacy skills
A student's reading comprehension and fluency may be greatly improved by attending a book fair. Students may improve their vocabulary, reading comprehension, and ability to think critically by reading widely and actively. The ability to critically read and understand texts is correlated with improved academic success.
Moreover, a book fair might inspire kids to read for pleasure on their own time. Reading process involvement increases when students are free to choose from various titles.
Supports academic success
Evidence shows that pupils who read are more successful in school. When done properly, a book fair is a wonderful resource for encouraging literacy and bolstering students' academic achievements. Building students' interest in reading increases the likelihood that they will read and comprehend academic materials, which is crucial for academic success.
A book fair may supplement the lessons taught by making appropriate reading materials more widely available. Books on chemistry, physics, and biology are appropriate for a science fair, whereas books on different periods are appropriate for a history fair.
Builds community
The school community might be strengthened via the book fair as well. The expo has the potential to generate enthusiasm and interest by bringing together students, parents, and educators. If done well, it may allow students to talk about the books and authors they like with others and spread their enthusiasm for reading.
A book fair is also great for the school to build relationships with area companies, land libraries, and community groups. The collaborations may help the fair run more smoothly and provide students access to more materials.
Raises funds
The proceeds from a book fair may benefit the school in many ways. The money from the book sales at the fair may be used toward a wide range of worthwhile academic initiatives. More library books, extracurricular programs, and educational opportunities like field trips are all possible outcomes of this funding.
Factors Schools Must Consider Before Organizing a Book Fair
Budget
When planning a book fair, schools must determine how much money they must spend. The budget will dictate how big the fair may be and how much money can be spent on it. The fair's expenditures, including venue rental, book purchases, promotion, and more, should be itemized by the school. They need to consider book prices, how to keep the fair cheap for all kids, and how to make a profit.
Timing
The book fair's schedule is also a major consideration. The fair should be held during school hours when most students, faculty, and parents can attend. Attendance may be negatively impacted if it coincides with other school activities or vacations. The fair should fall around a year when reading is celebrated, such as a reading week or a book-themed month.
Promotion
The book fair has to be advertised, so schools should plan accordingly. They need to make a strategy for advertising that uses all available channels, such as print and digital advertising, as well as online and offline networking and word of mouth. Students, educators, and parents should all be included in the advertising campaign for optimal turnout and participation. If the school wants to get the word out about the fair, it may partner with local businesses.
Types of a Book Fair a School Can Organize 
Traditional Book Fair 
The traditional school book fair is when local book merchants and publishers put up tables to sell and promote their wares. Books may be perused and bought by students, faculty, and parents.
Online Book Fair 
Books are sold through an online marketplace such as Amazon, book fair companies for schools, or a school-run website in this variant of the book fair. This arrangement might provide more options for time and place.
Book Swap 
A book swap is a kind of informal book distribution in which students exchange their books for other books. In addition to fostering a love of reading and recycling, this activity may help bring people together.
Conclusion
There are several upsides for educational institutions that host book fairs. It has the potential to foster a love of reading, improve literacy, foster school spirit, and generate much-needed revenue for the institution. A book fair may encourage pupils to develop a lifelong love of reading by giving a fun and novel method to connect with books. As a result, a book fair is a great way for schools to foster a love of reading and connect with their local communities via shared interests.